SAMSUNG, Smartphones
Samsung Galaxy Tab A (2017, 8.0″, LTE)
Performance    Quad core
Display              8.0″ (20.32 cm)
Camera              8 MP
Battery               5000 mAh
Operating System   Android v7.1 (Nougat)
Sim Slots                    Single SIM
Sim Size                     SIM1: Nano
Network                     4G: Available (supports Indian bands) 3G: Available, 2G: Available
Availability:
Out of stock
KSh37,999
Out of stock
Portability assured
Comfort that goes hand in hand with everyday use. Samsung Galaxy Tab A (2017, 8.0″) features a sleek, lightweight metal design with a soft edge grip for improved handling for those continuously on the move. Whatever the occasion, it's there when you need it most.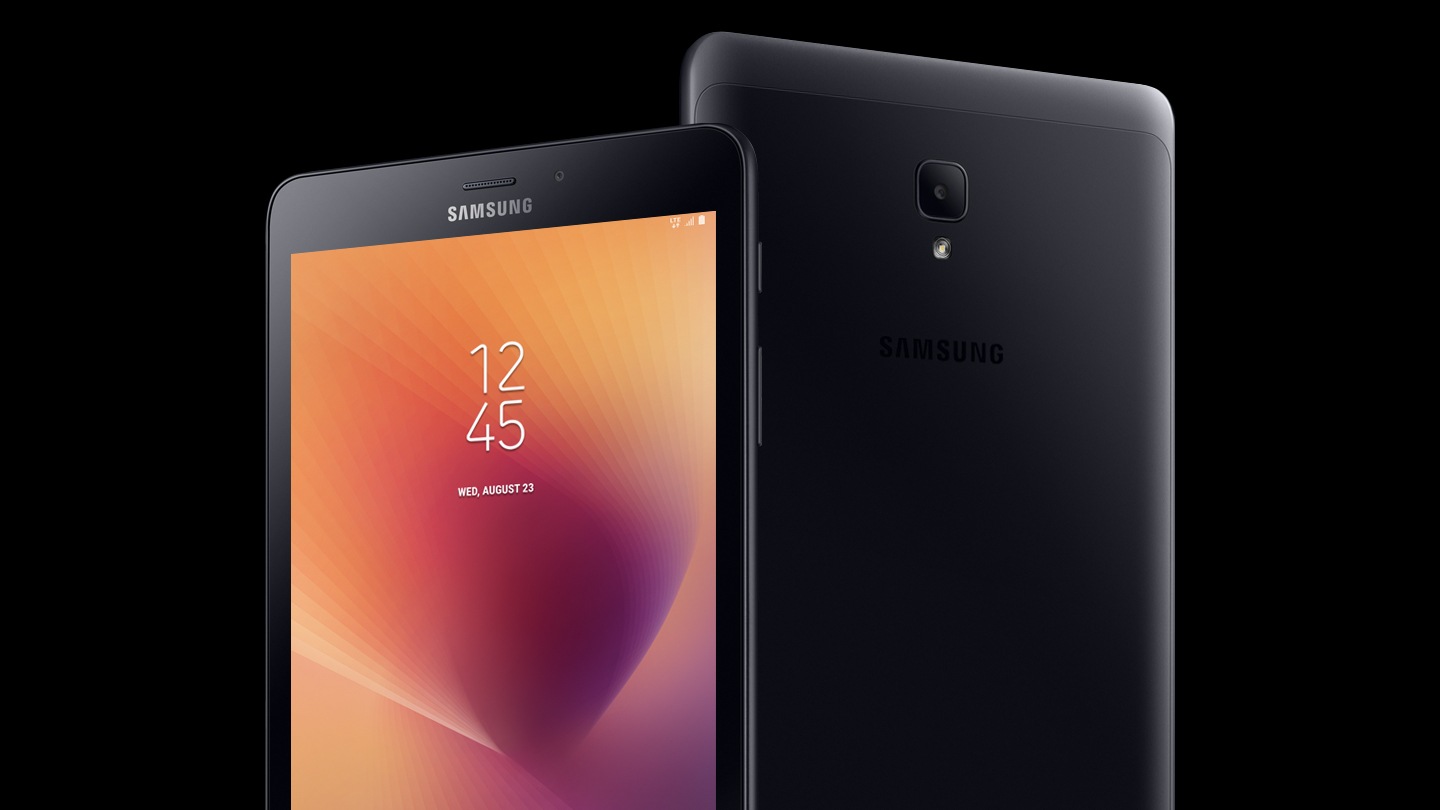 *Display specifications may vary according to LTE and Wi-Fi settings.
Instantly accessible
With Home Mode the Samsung Galaxy Tab A (2017, 8.0″) lets you check useful information in an instant. You can view the time, calendar, weather and date while charging. It also features a rotating wallpaper function so you can personalize your homescreen with your own collection of images.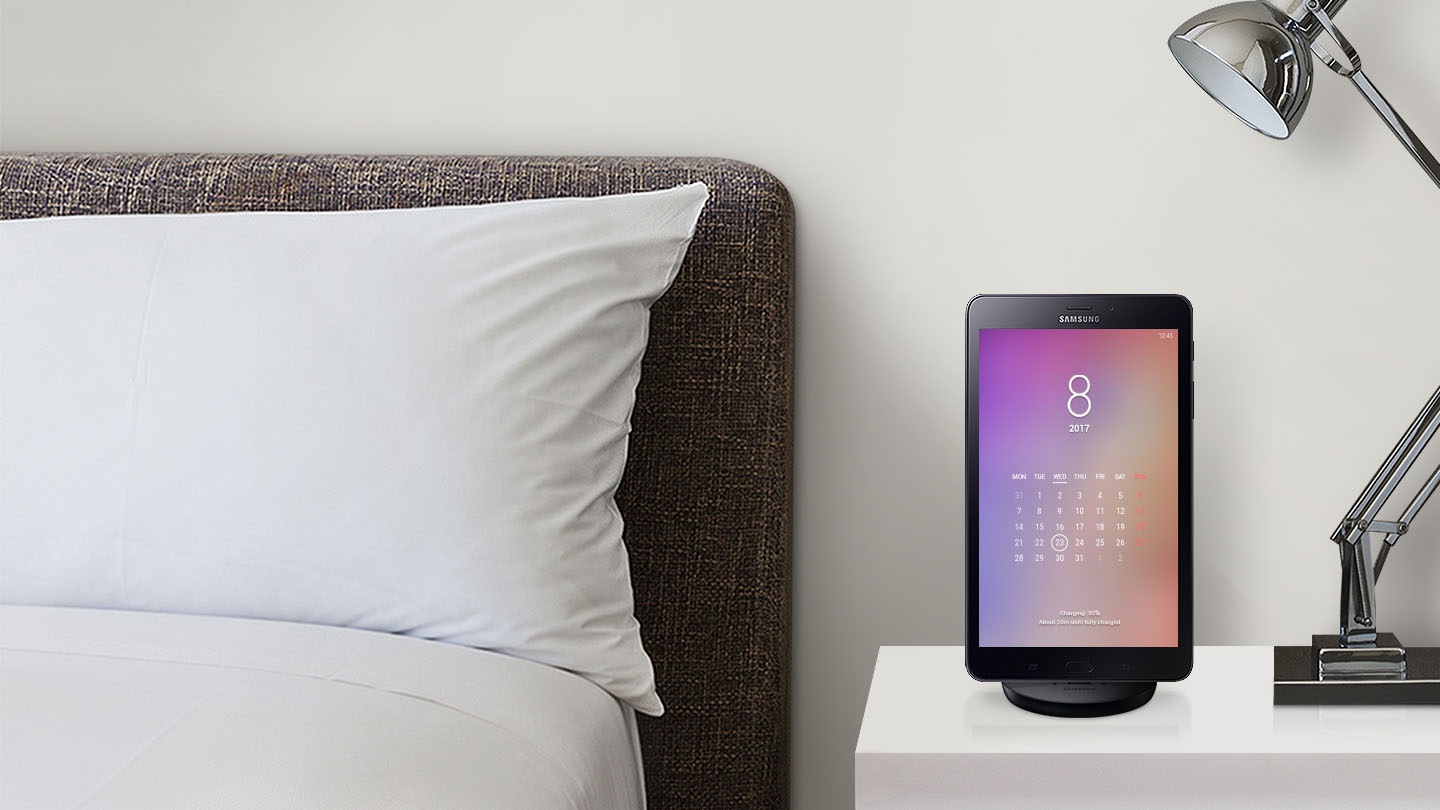 *Charging times may vary according to environment. *The availability of some services may vary upon release. *The charging dock as shown will be made available after product release.
Brighten up your images
Samsung Galaxy Tab A (2017, 8.0″) features a 5 MP front camera and enhanced 8 MP F1.9 rear camera with auto focus and flash support for added precision even in low light. It also comes with an additional settings such as HDR and Pro Mode to add more creativity to your images.
*The featured image is for demonstration purposes only. Actual photos may appear different when taken with the Galaxy Tab A (2017, 8.0").
Shooting made simple
The easy way to capture memorable images using your tablet. Its intuitive Floating Shutter button allows for improved grip and stability to give you more control when shooting. What's more, you simply have to drag the shutter button left or right to zoom in and out.
Balanced brightness all around
Optimized for wherever life leads you. Samsung Galaxy Tab A (2017, 8.0″) boasts a beautiful 8" display with an optional Blue light filter setting to balance brightness and reduce eye strain when you want to enjoy your favorite multimedia content inside or outside.
Reliable battery power
Long live the good times. Samsung Galaxy Tab A (2017, 8.0″) is engineered with a reliable battery that is powered to last over an extended period of time so you can enjoy more hours of video play, surfing the internet on a full charge via USB Type-C port.
*Battery life is subject to several factors, including location, signal strength, feature configuration and usage. Actual results may vary.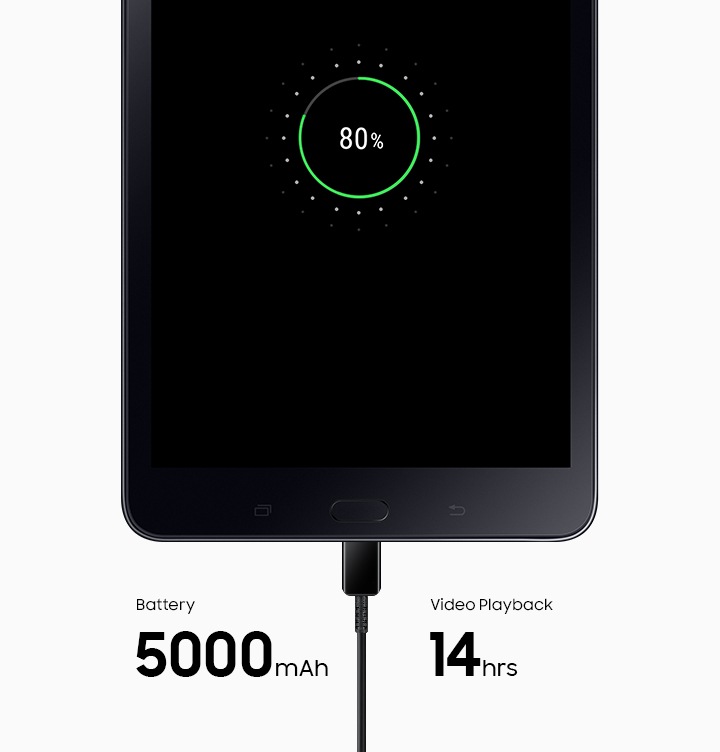 Great for gamers
Its responsive Game Launcher lets you group your installed games into one folder for easy access and features several gaming modes optimized for uninterrupted play. You can also choose from a wide selection of games and videos for action-packed enjoyment.
*The number of free videos and games may vary according to the time and place of purchase.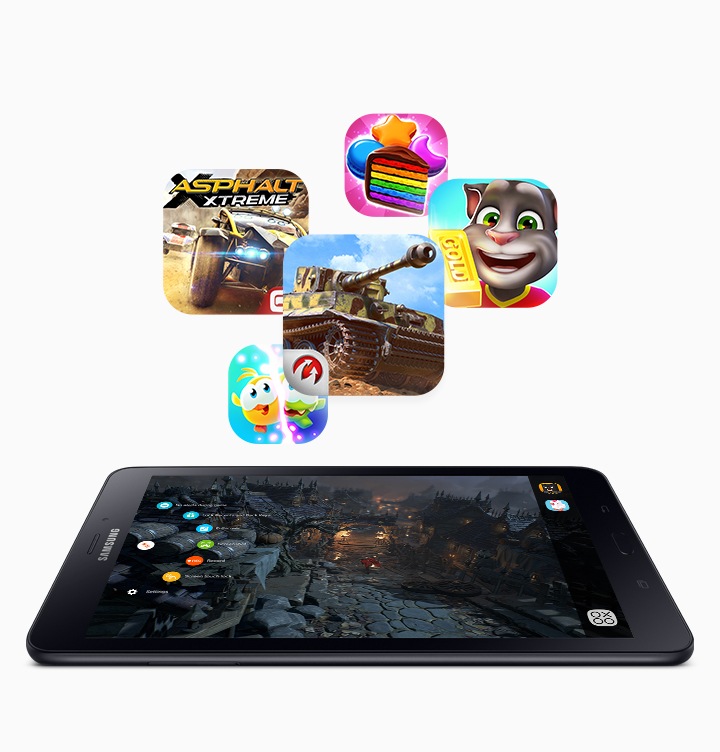 Fun for the little ones
Keep tabs of what your young ones are watching. Samsung Galaxy Tab A (2017, 8.0″) features parental controls to ensure children stay safely entertained for a long time. It also comes with animated videos, educational tools and popular activities, including interactive LEGO games, for kids to enjoy.
*The number of free games offered with purchase may vary by region.